October 12, 2020
Ministry of Sport to support NEOM's aim to become a global sports hub
NEOM and Ministry of Sport sign a Memorandum of Understanding to support the company's journey to be a global sports destination
Riyadh, Saudi Arabia: The agreement was signed by His Royal Highness Prince Abdulaziz bin Turki Al Faisal, Minister of Sport, and Nadhmi Al Nasr, CEO of NEOM, in the presence of His Excellency Abdul Ilah bin Saad Al-Dalak, Assistant Minister of Sports, and Jan Paterson, Sector Head of Sport at NEOM.
The partnership will enable NEOM to deliver against its strategic objectives and align with the Ministry of Sports' vision through building an active society, the advancement of youth and women in sport and the creation of job opportunities in the sector. The agreement also includes cooperation between the two parties in Formula E in line with NEOM's vision for sustainable sports.
The MoU comes as the Ministry of Sport seeks to develop the sector in the Kingdom in line with Saudi Vision 2030. It is also aligned with NEOM's aim to become a global center for sports that provides an environment for athletes to excel while also offering exceptional livability. It also contributes to growth, innovation and economic prosperity in the sector.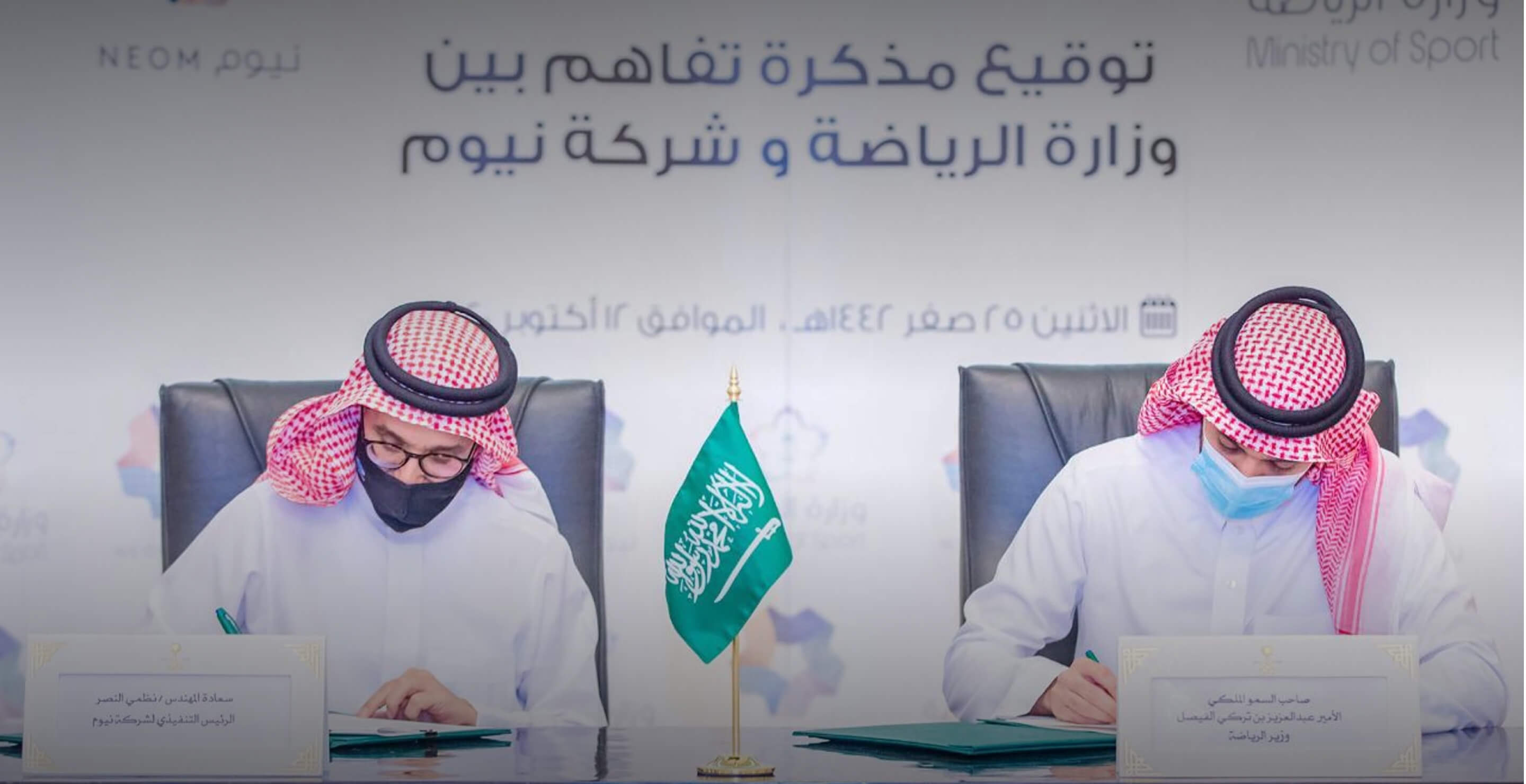 Commenting on the cooperation, His Royal Highness Prince Abdulaziz bin Turki Al-Faisal, Minister of Sport, said: "We are pleased to sign this memorandum with NEOM as we aim from this fruitful cooperation to contribute to the development of this vital and important sector, and to open the way for all parties and companies to share their capabilities to elevate the sports industry, and to create the appropriate environment for athletes from our dear country to become the ambassadors of their country in international and regional forums. The sports sector in the Kingdom enjoys unprecedented support from the Custodian of the Two Holy Mosques King Salman bin Abdulaziz, and His Royal Highness Prince Mohammad bin Salman bin Abdulaziz, Crown Prince, Deputy Prime Minister and Minister of Defense - may God protect them - and we - in the Ministry of Sport, are working hard and continuously to develop this vital and important sector, which targets a large segment of the young men and women of this dear country, in line with the objectives of The Kingdom's Vision 2030, and we will move forward to achieve these goals, with the combined efforts of all relevant authorities and stakeholders."
Nadhmi Al Nasr, CEO of NEOM said: "We are pleased to cooperate with the Ministry to create a vibrant and active living environment capable of attracting the best talent and minds from around the world. This is one of the priorities of the project, given that sport is of great importance, as one of the key components of NEOM societies. Sports investment in the Kingdom is growing significantly and tangibly to become one of the most lucrative and innovative sectors in the world, and this forms an important aspect of NEOM's strategy to create promising sectors and build a solid economy. This memorandum will allow exploring all possible opportunities and building sports entities that contribute to empowering Saudi youth and residents of NEOM, so that sports will be a source of inspiration for them. We at NEOM are working to provide the most advanced sports facilities by attracting unprecedented investments in the field, hosting the most important sporting events, teams and athletes from all over the world, and attracting global industry leaders."