Discovering new depths with OceanX
Explore the Red Sea
Beneath the surface of the Red Sea lies an unexplored world. NEOM and OceanX embarked on a mission to learn more about life in the ocean's depths. Over six weeks, 30 world-renowned experts carried out pioneering work in the deep sea and shallow reefs - focused on oceanography, mapping and genetics. Their groundbreaking discoveries will lay the foundations for NEOM's ambitious conservation program. This will protect the incredible biodiversity for generations to come.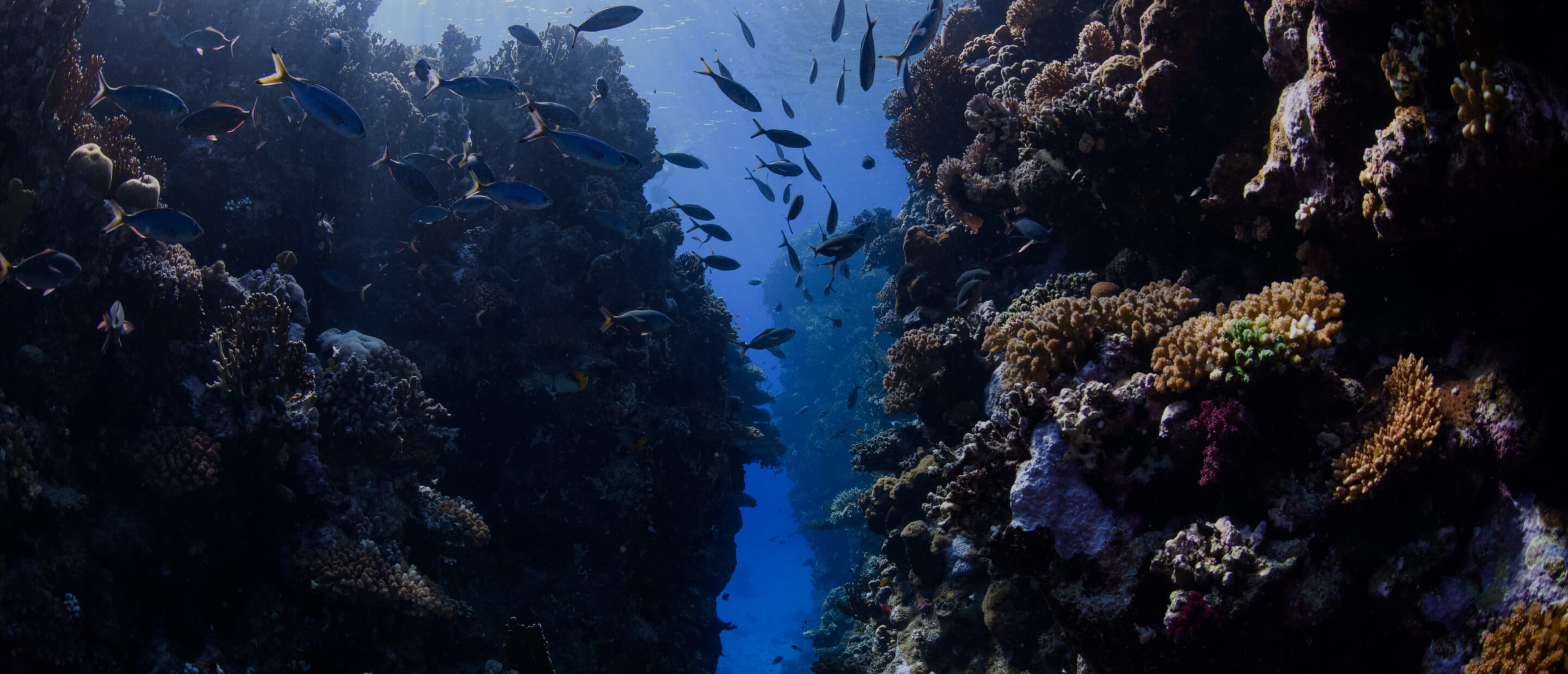 1,100 hrs

of diving surveys

960 hrs

of underwater research

341

identified fish species
Undersea exploration
DIVE IN
Mapping more than 1,500km2 and capturing over 535 hours of footage, this mission documented a stunning underwater world - by way of 9 episodes featuring world-first exploration of the northern Red Sea.

Episode 1: The Shark Seeker

Episode 2: Coral is Calling

Episode 3: The Turtle Tagger

Episode 4: In Search of Whale Sharks

Episode 5: Seeing Reefs in a New Light

Episode 6: Operation B.R.U.V.

Episode 7: Into the Brine

Episode 8: The Dugong Whisperer

Episode 9: Mapping the Red Sea
After 42 days spent 3D mapping some 1,500 km2 of seabed, the crew made some astounding discoveries. They found three ancient shipwrecks, surveyed three unexplored islands and identified eight areas of outstanding natural beauty. In addition, satelllite tags were used to better understand marine life. Meanwhile, 152 sightings of megafauna resulted in the known range of species extending by more than 20. Without question, the expedition was an unrivalled success.
Preserving the extraordinary
biodiversity of the Red Sea
Notable Discoveries
Mystery squid

Two sightings of a mystery squid caught on camera

Sealife

8 new species recorded and more than 600km2 of biodiverse habitats discovered

Brine Pool

Discovery of the world's most northern deep-sea brine pool

Ocean pinnacle

Discovery of a 635m high ocean pinnacle—taller than most of the world's buildings

Fish Biodiversity

Identification of 341 fish species, 68 that are endemic and 18 that are globally threatened
Expedition rundown
24/7
Exploration
With such a large body of water to cover, scientists on the 6-week expedition worked around the clock to discover every secret lying beneath the depths.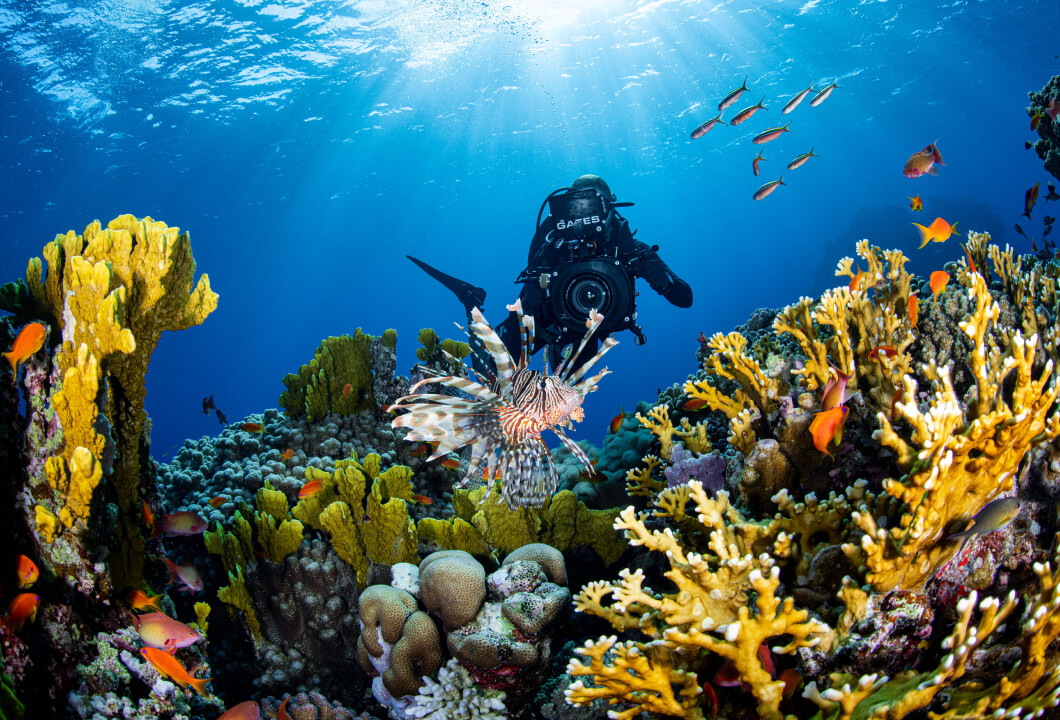 In the day
During daylight, the scientists carried out diving surveys of the coral reef and seagrass beds, as well as submersible missions down to 720m. They also used a remote operated vehicle (ROV) for deep-sea studies. With the fauna being fully active during these hours, marine research was maximized. The team were then able to collect geological and biological samples, on top of tagging turtles and sharks.
At night
At night, the ocean truly became a different place. So after sunset, a multibeam sonar was employed to map the seabed and the world's largest underwater camera was used to detect unusual features. Water saline density was measured with conductivity, temperature and depth (CTD) testing. And the scientists used underwater microphones to monitor the late-night habits of dolphins and whales.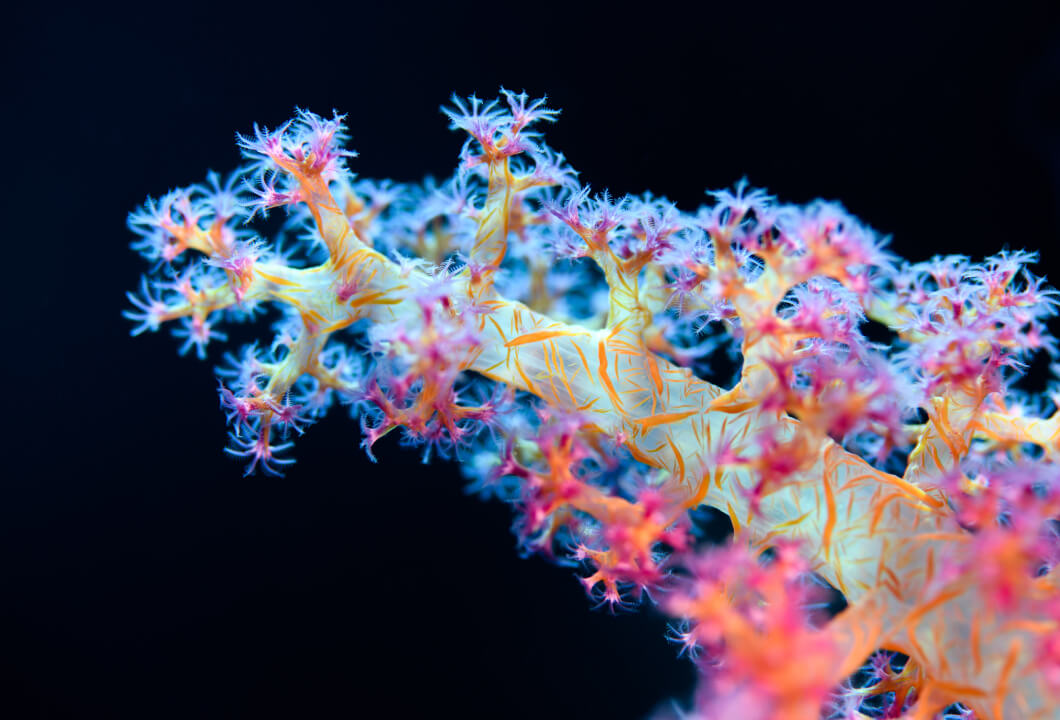 Explore the gallery
Discover
the Red Sea
The Red Sea is untouched and one of the planet's final frontiers. Located between Asia and Africa, its waters are essential to global trade and travel. Despite its rich ecosystem, the ocean bed remained largely uncharted. Until now, that is. Uncovering the secrets of the Red Sea through advanced scientific exploration could make a dramatic difference in the battle to save the world's oceans.
Members of the OceanX and NEOM crew meeting to study a new sample and discuss the findings

A CTD sampling tool that measures the chemical properties of the brine pool, bringing samples back to the surface

The Argus ROV being lowered to the bottom, in order to survey the dark deep-sea reefs and ocean floor

Red Sea coral is home to many species, providing a case study of how coral reefs can survive and thrive in hyper-warm waters

A scientist studying a coral sample, so as to see how we can use science to further conservation efforts in NEOM

A scientist tagging a turtle for tracking and conservation efforts
The expedition surveyed NEOM's coral reefs, discovering 15+ excellent dive sites. Some 1,100 hours of diving surveys revealed extensive coral reef systems throughout the Red Sea and the Gulf of Aqaba. The team witnessed healthy diversity and even discovered several new species. There was sadly some evidence of hot-water coral bleaching, due to global warming - reinforcing NEOM's mission to protect the oceans.

There were 152 sightings of megafauna across the NEOM region – including various species of shark, manta rays and turtles. The expedition resulted in the first Red Sea tagging of hawksbill sea turtles, silvertip reef sharks and whale sharks. Researchers took part in 14 dives, producing 131 hours of baited underwater video footage – in order to locate and track the sealife.

NEOM has rich deep-sea areas, uniquely close to shore. Submersible technology helped reveal fascinating mounds formed by living coral growing on fossilized reefs, at a depth of 300m. Deep-sea coral is also home to predators such as the silvertip shark. Amazingly, the expedition recorded a giant squid while exploring a shipwreck. This was only the third time ever this species has been filmed.

The NEOM Brine Pool is a high-salinity lake formed on the seafloor. This is thought to be one of the most accessible brine pools on the planet, due to its close proximity to the Gulf of Aqaba coastline. Located at 1.8 km below sea level, it is home to unique aquatic species - boasting its own ecosystem complete with 'waves' and 'beaches'.
About OceanX
OceanX is an organization that supports scientists to explore the seas and bring the findings to the world via captivating media. Uniting leading media, science and philanthropy partners it utilizes next-generation technology, fearless exploration, compelling storytelling and immersive experiences. These activities help to educate and inspire, connecting the world with the ocean. At the same time, the organization builds a global community deeply engaged with understanding, enjoying and protecting our blue planet.