Changing the Future of
Media
Changing the Future of
Media
Creating a new centre for the region's media and creative industries – by establishing the world's first physically and technologically integrated hub focused on screen production, gaming and digital publishing. This is the catalyst for a legacy-free industry evolution. It is the future of media.
Leading the world in

Convergent technology

Leading the world in

Collaborative ecosystems

Leading the world in

Advanced infrastructure

Leading the world in

Industry innovation

Leading the world in

Cutting-edge approaches

Leading the world in

Frictionless facilitation

Leading the world in

Start-up incubation

Leading the world in

Integrated learning & training
Wayne Borg

Media Managing Director

Changing the future of Media

We have a tremendous opportunity to make NEOM the world's first fully integrated media hub because we are designing and building from the ground up. All within a cognitive city powered by world-class technology.

An interview with Wayne Borg

Could you map out where Media sits in the grand vision for NEOM and how integral it is to the success of the project?

A vibrant media industries sector is an important element in NEOM's development. The creative industries, and the media industries in particular, are recognised as a growth driver. And they are a powerful force for economies and progressive societies around the world – given their contribution to GDP, the role they play in driving the knowledge economy, through innovation and creativity, and in establishing platforms to tell stories that help shape identity.

It's an ambitious vision. How do you plan to create the media hub and make it the regional epicentre?

We have undertaken extensive market analysis and canvassed industry to fully understand and identify the success factors for media hubs globally. We believe our unique value proposition will attract regional and then global players in the key sectors of gaming, screen production and digital publishing. There are four key areas of focus for us: The first is capacity building in physical infrastructure and services, so that we lead the world in facilities and technologies integrated into one creative campus located at the heart of NEOM. The second is defined incentives and cost advantage – to ensure we are competitive globally and that we use our investments to kick-start the strategic development and continued growth of our media ecosystem. This starts with production and business incentives to attract existing businesses and strategic start-up funding across the value chain. This will help build a balanced ecosystem and an operational base that provides both financial competitiveness and business efficiency. Then the third is workforce development and capacity building, managed in tandem with industry. This will ensure we establish partnerships and curriculums with world-leading creative, technical and vocational education institutions. That will deliver the skilled talent pool our priority industry sectors require across their value chains. Finally, the fourth is business ease and accessibility to provide a frictionless, industry-centric process for companies and individuals across all government touchpoints. We believe that achieving these four things will differentiate NEOM from its regional competitors and position us on a par with global industry hubs. This will allow us to become the elite global hub this region so richly deserves.

NEOM aims to create an integrated media hub – would you be able to map out what that means and how it's possible?

There has been a significant increase in the adoption of new technology and its convergence with creative processes, and production value chains, across our priority sectors, making integration in the media and creative industries more and more important. We have a tremendous opportunity to make NEOM the world's first fully integrated media hub because we are designing and building from the ground up. All within a cognitive city powered by world-class technology. We can align our sectors and integrate industry-focused education, investment and production in one co-located creative campus. This means we can align our priority sectors in a way that has not been achieved before. By doing this, students learn on the same equipment being used by industry. Existing media professionals can upskill and reskill with minimal time disruption to their roles. And we can integrate start-up incubation and research and development, in order to launch and monetise ideas much faster.

How important to your success is job creation?

It is crucial. We must provide the talent that industry requires to flourish, while giving people in the region the opportunity to develop meaningful careers. This comes by having talent and industry converge to create a dynamic, inspiring environment. This is our focus. We have a large youthful population in Saudi Arabia and across the region, who are extremely digitally savvy and ready to learn new skills to help tell their stories. By aligning their career aspirations with the needs of the screen production, gaming and digital publishing sectors – across all aspects of the value chain – we can develop a skilled workforce geared specifically to the needs of industry. So we are partnering with world-renowned international training and education institutions. Particularly those with the capabilities to innovate in our priority sectors and to develop technical, vocational and creative curriculums – delivered in an industry environment at our integrated media hub. This means students can be working in the classroom one day and then learning on the job the next day. This blended learning approach reflects how the industry is evolving. It will deliver the accelerated skills development and depth of industry-ready talent that is needed to create world-class content. We know there is a tremendous appetite for it, as has been proven by the demand we have seen for places on our first industry learning programmes and international scholarships. These were oversubscribed. I'm thrilled by this. It's a great indicator of the groundswell of interest in the media industries and the desire to pursue a career in the sector. It also shows that what we are offering is resonating strongly. This is just the start.

What is the timeline for the delivery of your media goals and objectives? When will people see content created at NEOM?

Content is already being created at NEOM. With gaming a priority sector, we have signed a joint venture agreement to establish the first AAA games development studio in the region. This is currently being incubated in the United States and will relocate to our media hub in 2023 – in order to produce high-production-value games for local, regional, and international audiences. By the end of 2021, our production incentive rebate scheme will have attracted nearly 20 productions ranging from short-form video content to television documentaries and feature films. That includes our first international and Saudi feature films. The first of our initial sound stages will be operational and ready to welcome the first regional soap opera to be produced at NEOM in early 2022. Further sound stages will come online in the launch phase of our media hub later the same year, meaning we will be able to offer a flexible range of stages up to 5,000m². As the productions kick-start the growth of the media ecosystem, our talent pipeline to support this burgeoning sector is also being developed with a number of industry-learning programmes and scholarships introduced. We currently have 55 students studying filmmaking with the National Film & TV School in the United Kingdom, including five on two-year master's degree programmes. We have also launched the NEOM Digital Media Academy. It aims to help young Saudis take their passion for creating digital content into professional opportunities. Following a successful pilot programme in July 2021, we will run a second intake in November. This means that by the end of 2021, we will have put 200 Saudis through such programmes. Our industry learning team continues to engage with graduating students to support their career aspirations, through facilitated employment pathways – starting with internships and placements on the productions we attract. We have already had more than 15 trainee placements in just a few short months. This will continue to expand.

What new opportunities for growth are opened up by the advanced technology infrastructure that will be built?

Throughout the last decade we have seen the convergence of film, television and gaming technology to increase efficiency and enable new ways to share our stories. We have the advantage of being legacy-free with a digital-first framework and infrastructure. This will position us strongly to meet the needs of regional and international industry. From NEOM's advanced technology infrastructure and amazing connectivity to integrated collaborative workspaces, the integrated media hub has allowed us to design a space for the future – today.

How will progressive regulations be utilised and what will they allow you to achieve?

Industry has told us that laws and the regulatory frameworks are a critical enabler. By adopting best practice from successful international jurisdictions and using our lack of legacy to launch a digital first approach, we can compete globally and differentiate ourselves from regional counterparts. We will provide a codified regulatory framework designed to give industry the legal certainty and confidence to invest in NEOM. At the same time, we will remove all bureaucratic friction to provide an efficient business experience from day one.

What is the legacy you want to leave for future generations?

To see the NEOM Media Hub competing with the world's elite creative centres. And to see it become the focal point for the creative industries in the region, renowned for attracting talent and industry. Plus to give regional and global audiences outstanding content for the screen and to play, and to interact with. I also want it to be a great place to live, at the same time redefining how content is produced and how creators are connecting with audiences like never before; to take them on journeys like they have never experienced.

Is there a popular misconception people have about NEOM?

The biggest misconception is that it is in the future. The reality is that NEOM is happening now. It's thriving, bustling and exciting from a media industry perspective. We are live. We are open for business, supporting local and international film and TV producers with their major productions. We are facilitating them with our infrastructure, our teams and incentives. Our talent initiatives are underway and resonating with the young people in the region, who are jumping at the opportunity to start a career in the industry.

How is daily life in the NEOM community right now?

It is incredibly exciting. On the work-front, I'm enjoying being part of the leadership team on a project that really is a once-in-a-lifetime opportunity. At the weekend, I get to explore the variety and diversity of nature here – from exploring mountains and desert to accessing kilometres of untouched beaches with beautiful coral reefs just below the surface. I am thrilled to be one of the early pioneers shaping the incredible future of NEOM – knowing what it will contribute to the region and its impact globally.

For background, could you tell us more about your own profile and career?

I've been extremely fortunate to have had the opportunity to pursue a career in a field that has long been a passion for me. The media and creative industries have always fascinated me. Whether as a young wide-eyed boy itching to get to the cinema for the latest release on a Saturday afternoon or more latterly pitting my race driving skills on my PS5. I entered this world with Disney and started to understand how powerful the creative industries are as businesses, as well as the impact they have on social and cultural trends. It's an industry that has afforded me the opportunity to live and work in many parts of the world and I've had the great privilege to work for some of the biggest companies in media and entertainment. The range of roles and cultural environments has uniquely shaped me as a resilient and collaborative leader, thriving across traditional and digital media in both start-up and corporate environments. I started as a marketing trainee for Unilever in my native Australia then with leadership roles at Pepsi. I went on to senior roles in Europe, Asia, the US and the Middle East for leading companies including Disney, Warner Bros and Universal Studios. My role prior to joining NEOM was as president and general manager at Fox Studios in Los Angeles, after being CEO at Fox Studios Australia. My first foray into this region was when I joined the start-up team and established twofour54/Abu Dhabi Media Zone Authority, where I was deputy CEO and chief operating officer.

The gravitational pull of NEOM as an undertaking is clear, but what was the clincher for you to join the project here in Saudi Arabia?

To be asked to become part of the NEOM leadership team was humbling. It is truly a once-in-a-career opportunity to be involved in a nation-building initiative on such a breathtaking scale. And to be able to shape a dynamic, future-focused and world-leading creative industries hub – where the only thing holding you back is the scale of your ambition. By extension, it is also the opportunities you create for young people pursuing a career or business idea. Whether for audiences, for industry or for the Kingdom. The energy and vibrancy is exciting, energizing and addictive.
The
Changemakers
People with passion can change our world and create a better future. Let our three experts tell you how in this thought-provoking film.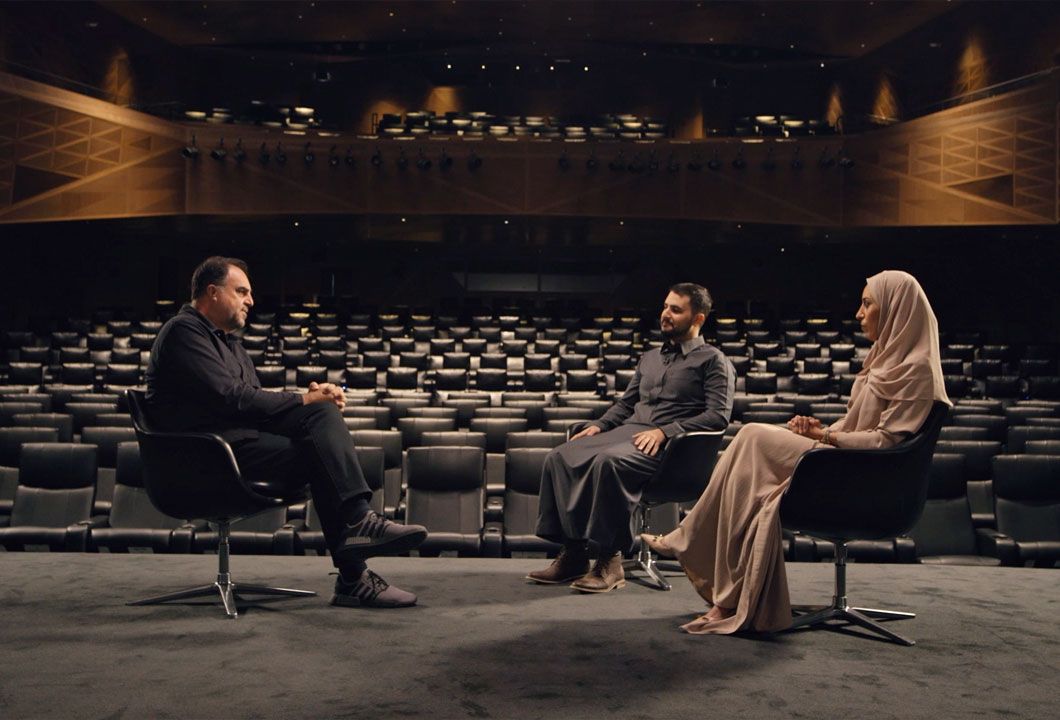 Uplifting people is a top priority for NEOM, so cultivating a skilled workforce regionally will take center stage when building an interconnected media environment. A creative media school district that will educate and elevate new talent for local productions is also in the works.

02

Develop state-of-the-art technology and infrastructure

To become a global focal point for the industry, NEOM is planning on evolving into a wider media ecosystem. Standing out from the crowd, NEOM will offer facilities and services that include backlots, broadcast studios, gaming centers, animation and VFX/post-production offices.

03

Support ease of business

NEOM will orchestrate unique incentives and offer cost advantages to spawn media creativity for both local and international business. With leading-edge policy and a world-class regulatory framework, NEOM's vision is to ensure a favorable setting for cultural content development.

04

Focus on content creation

As a leader in creativity, NEOM will put the spotlight on path-breaking content producers that can create a global movement. Storytelling is at the heart of everything made in NEOM, and the ambition is to awe audiences through original narratives across a range of distribution channels.
Our people
NEOM brings together international experts and leaders to develop world-class infrastructure, service facilities and a sustainable workforce for a flourishing media sector.
Wayne Borg

Media Managing Director

Wayne Borg has 20+ years of experience in leadership roles in the media, entertainment and cultural industries. He has led key divisions including Walt Disney, Universal Studios, Warner Bros/Time Warner and 21st Century Fox Studios. He has also driven strategic policy initiatives for government.

Elie Kawkabani

Business Development Executive Director.

Elie Kawkabani is helping shape the future of the region's industry and establish the media ecosystem at NEOM. With +30 years of experience building disruptive start-ups and running operations at regional media companies – such as TV2MORO and OSN – he brings a wealth of knowledge to the role.

Sam Pantos

Operations Director

As Operations Director, Sam Pantos oversees the development of NEOM's advanced media production infrastructure. Having worked for Sony Pictures, Endemol Shine Group and Fox Studios, he has more than 15 years of experience successfully delivering multi-million dollar projects.