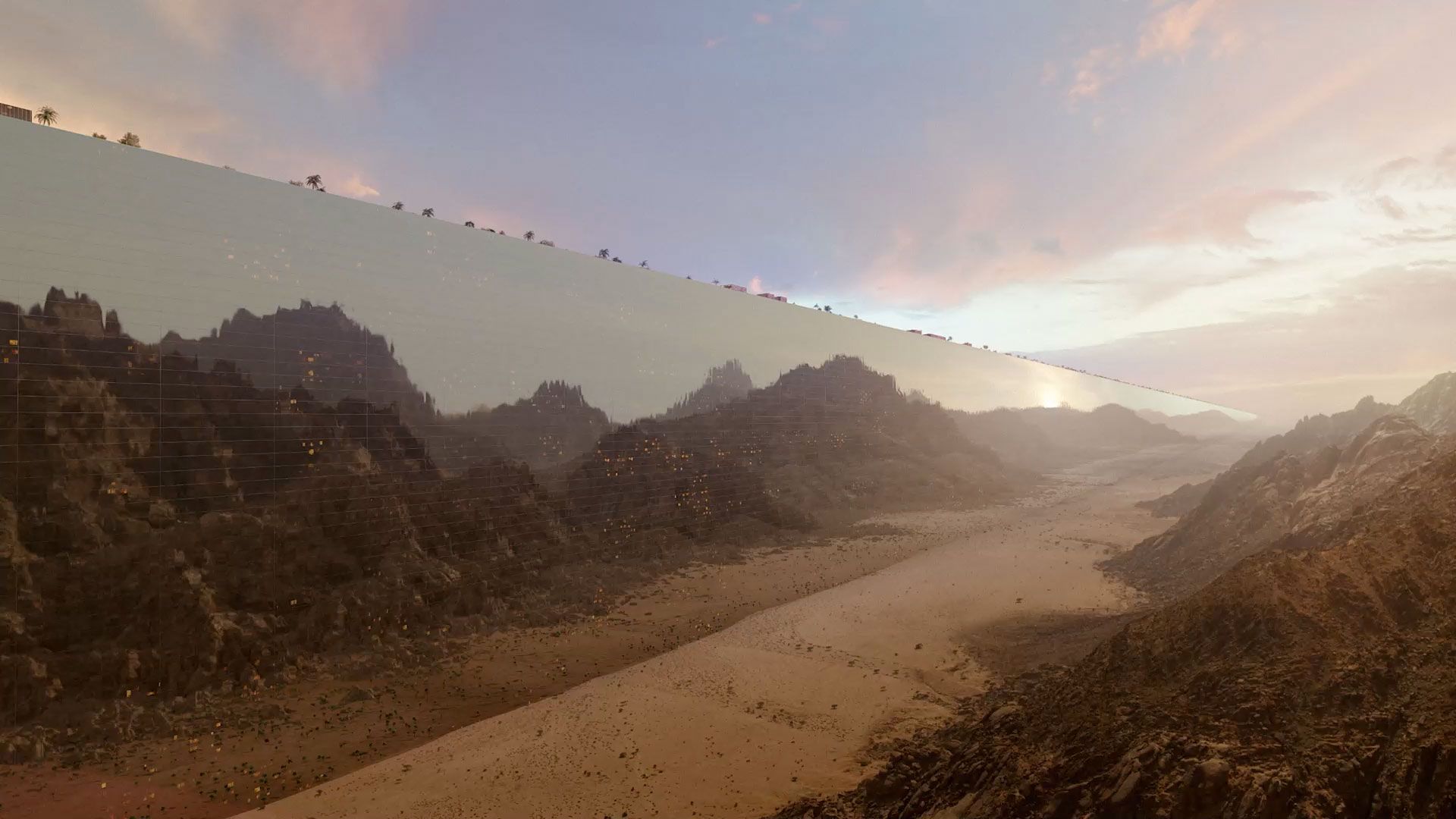 NEW WONDERS FOR THE WORLD
THE FUTURE OF
URBAN LIVING
THE LINE is a civilizational revolution that puts humans first, providing an unprecedented urban living experience while preserving the surrounding nature. It redefines the concept of urban development and what cities of the future should look like.

No roads, cars or emissions, it will run on 100% renewable energy and 95% of land will be preserved for nature. People's health and wellbeing will be prioritized over transportation and infrastructure, unlike traditional cities. Only 200 meters wide, but 170 kilometers long and 500 meters above sea level.
THE LINE will eventually accommodate 9 million people and will be built on a footprint of just 34 square kilometers. This will mean a reduced infrastructure footprint, creating never-before-seen efficiencies in city functions. The ideal climate all-year-round will ensure that residents can enjoy the surrounding nature. Residents will also have access to all facilities within a five-minute walk, in addition to high-speed rail – with an end-to-end transit of 20 minutes.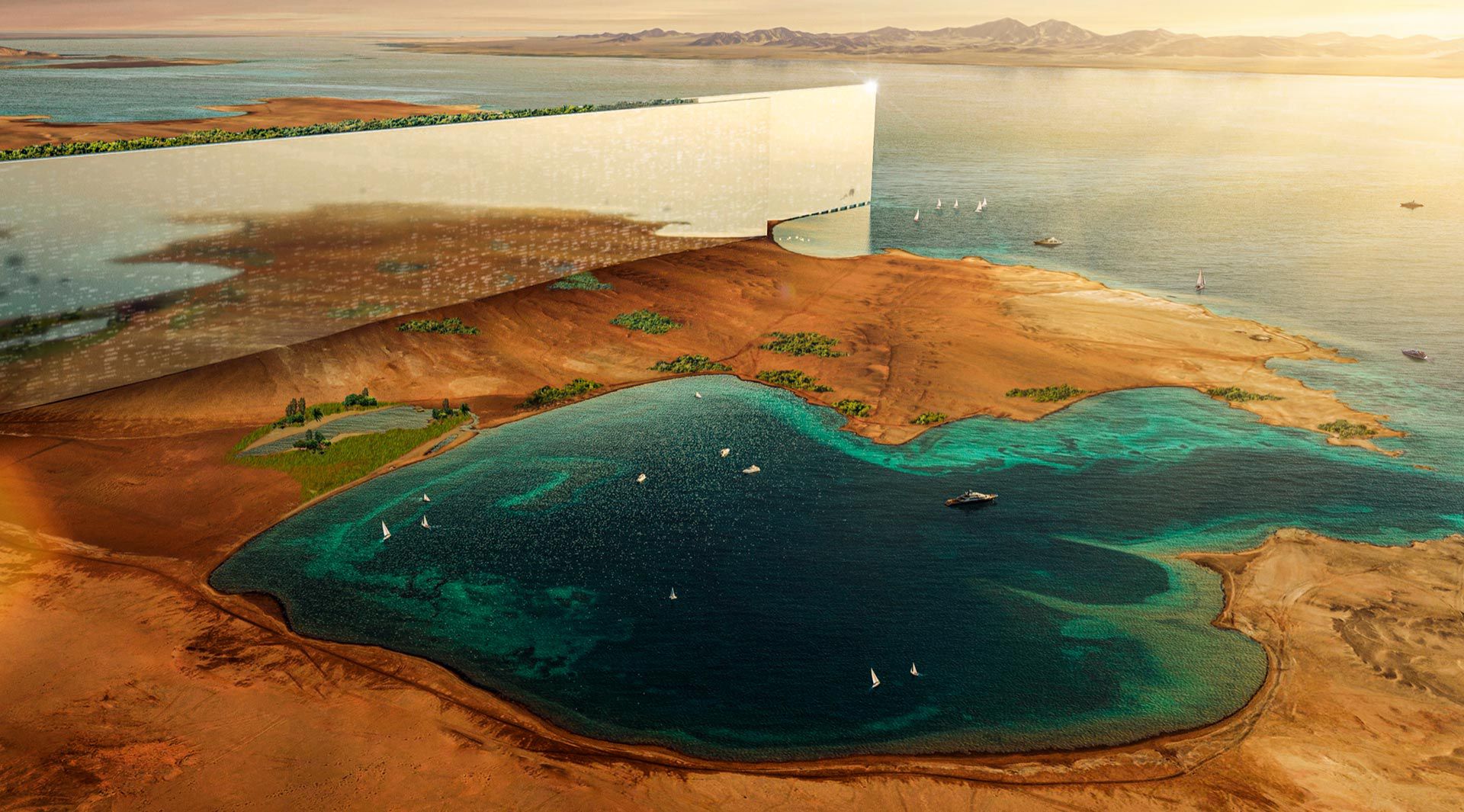 A REVOLUTION IN CIVILIZATION
UNPARALLELED ACCESS TO NATURE

Our progressive design offers immediate and uninterrupted access to nature within a two-minute walk through its diverse open spaces, suspended on multiple levels. Equitable access to pristine views of the surrounding natural landscape, mountains and sky – for all – avoiding urban sprawl thanks to a reduced infrastructure footprint.

CLEAN AIR FOR EVERYONE

The city will be zero-carbon, through the elimination of carbon-intensive infrastructure like cars and roads. It will operate on 100% renewable energy, including the operations of its industries. The integration of nature and open spaces throughout will serve an important role in purifying air quality.

MORE TIME TO SPEND WITH LOVED ONES

Everything will be accessible within a five-minute walk and an efficient public transport network will offer an end-to-end journey in just 20 minutes. Automated services will be powered by artificial intelligence. Amenities in close proximity will mean residents see family and friends often through spontaneous encounters.

A PERFECT CLIMATE ALL-YEAR-ROUND

To ensure the establishment of microclimatic spaces, the environment has been carefully designed to allow for an optimal balance of sunlight, shade and natural ventilation. Furthermore, the green open spaces throughout the city will further enhance the comfort for those living, working and visiting here.
"THE LINE will tackle the challenges facing humanity in urban life today and will shine a light on alternative ways to live. We cannot ignore the livability and environmental crises facing our world's cities, and NEOM is at the forefront of delivering new and imaginative solutions to address these issues. NEOM is leading a team of the brightest minds in architecture, engineering and construction to make the idea of building upwards a reality."

His Royal Highness WORLD-CLASS QUALITY OF LIFE

Where the best and the brightest live. A place of unparalleled social and economic experimentation – without pollution and traffic accidents – coupled with world-class preventative healthcare, so people will live longer.

A PLACE TO PROTOTYPE BUSINESSES

Built around humans, not technology. A cognitive city that predicts and reacts to what we need, not the other way round. Zero-gravity living will mean a higher-density footprint creates a richer human experience, and new business opportunities. Some 380,000 jobs will be created by 2030.

ENVIRONMENTAL SOLUTION TO URBANISM

Our zero-car environment is part of a 100% sustainable transport system – with zero pollution and zero wait time. Reduced commutes will create more time for leisure. Not paying for expenses like car insurance, fuel and parking will mean higher disposable incomes for citizens.

A COMMUNITY INVENTING THE FUTURE

Advanced tech planning logistics and modular construction will enable efficient delivery of THE LINE. And the community will live close to, and in harmony with, nature – which will be 95% untouched by urbanization. Our vertical garden city will mean you are always only two minutes from nature.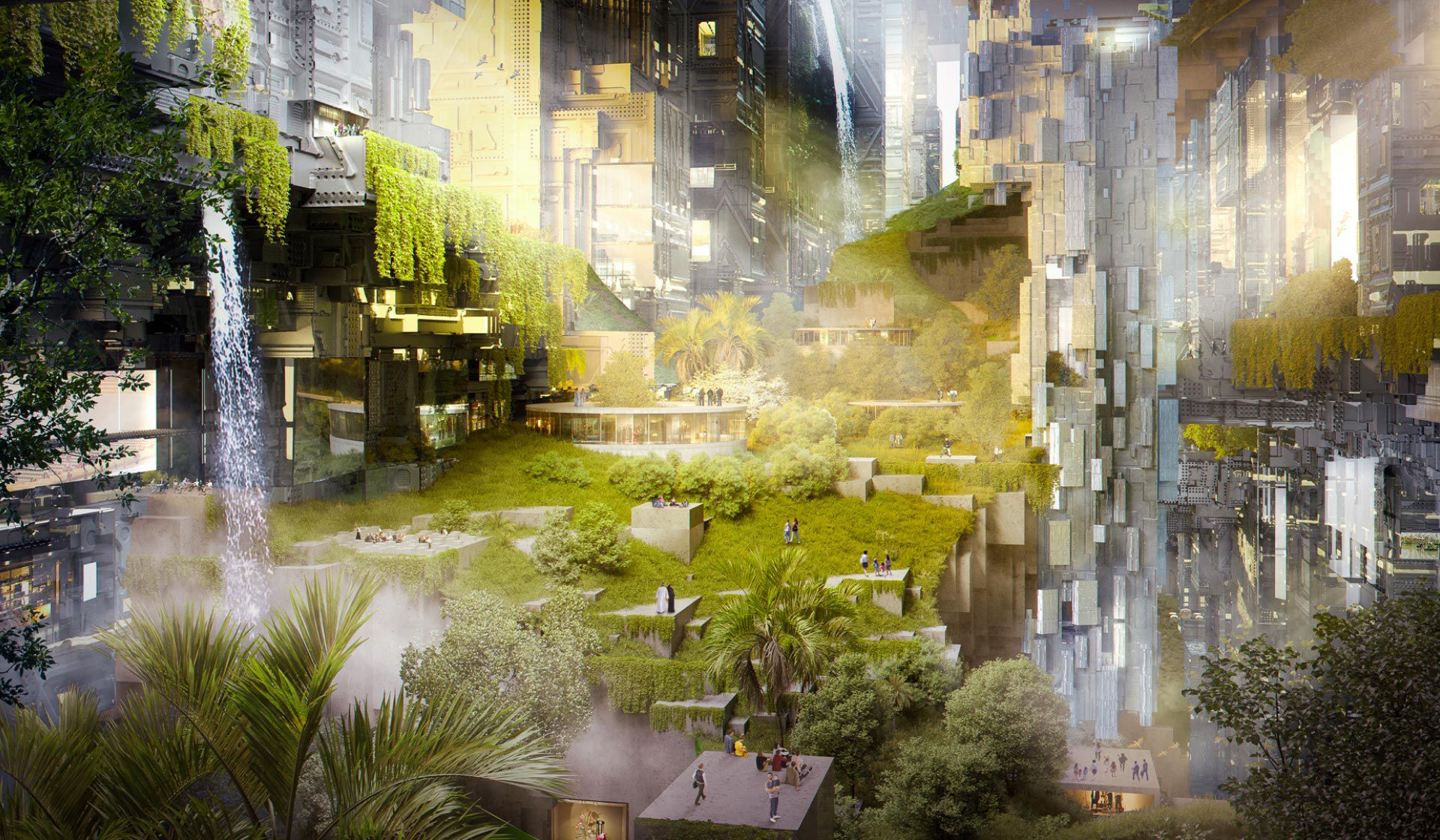 THIS IS THE LINE
DESIGNED TO DELIVER NEW WONDERS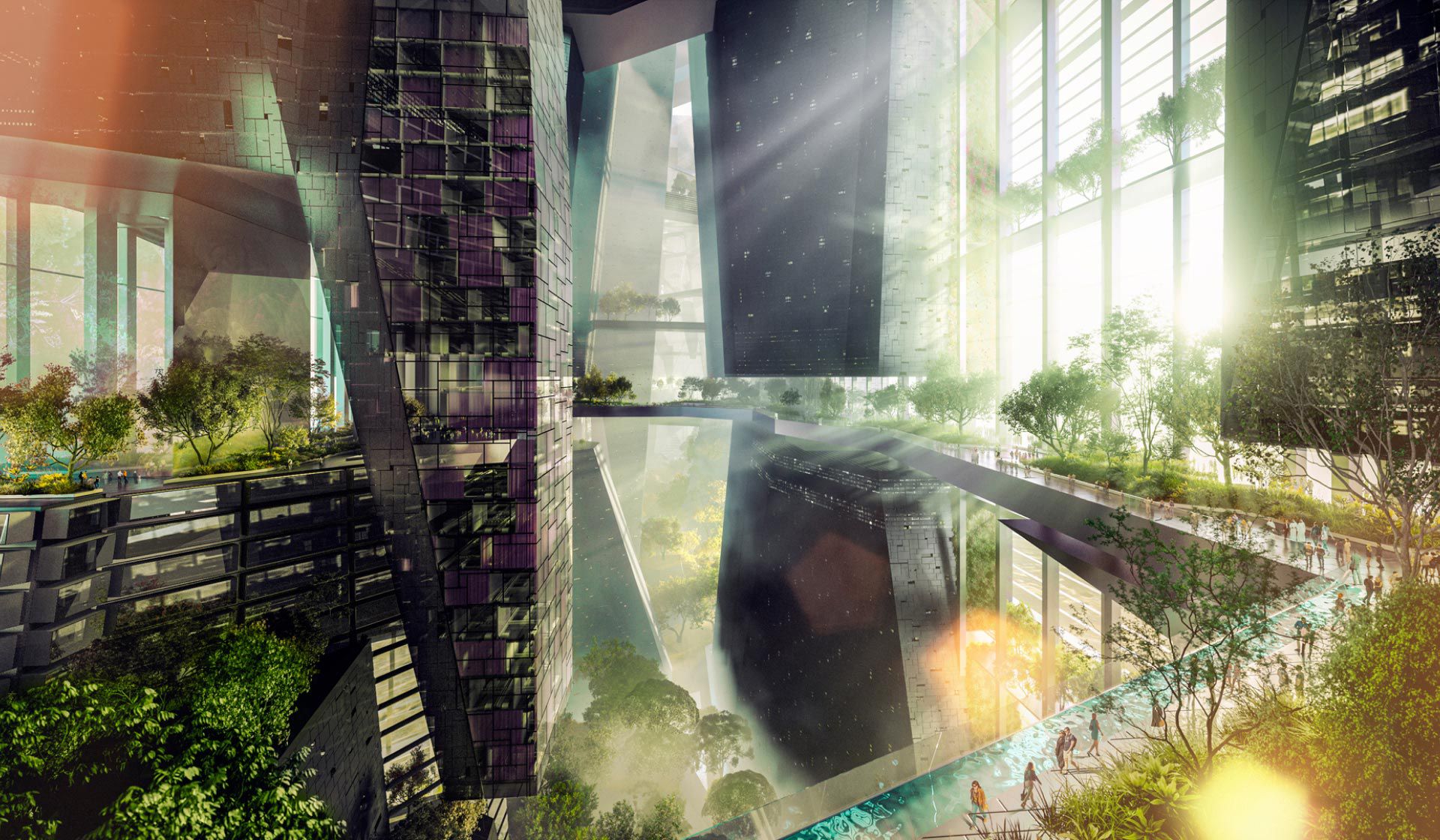 ENHANCED HUMAN LIVABILITY
VERTICAL URBANISM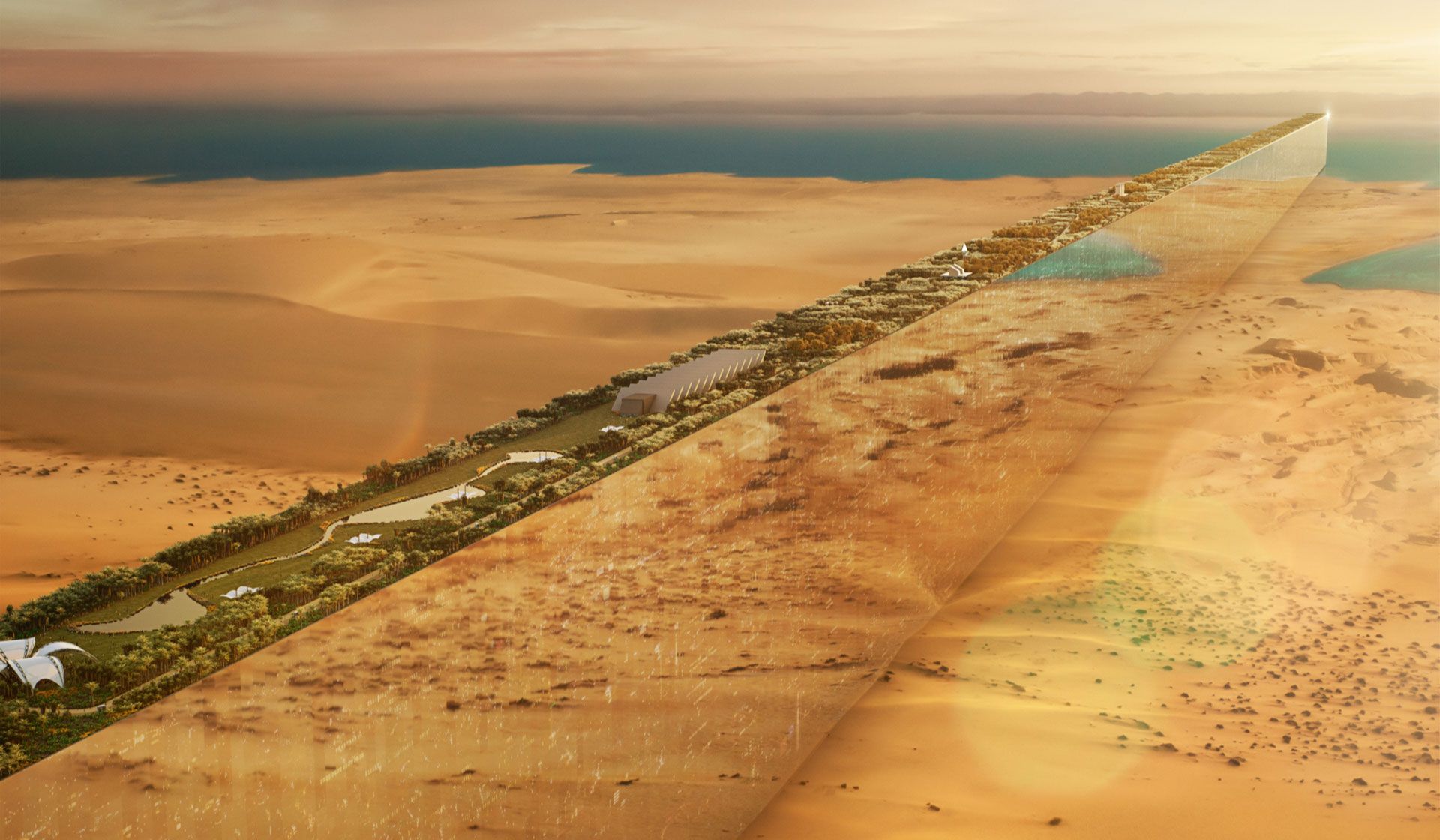 MIRRORED DESIGN BLENDING IN WITH NATURE
A MODEL FOR NATURE PRESERVATION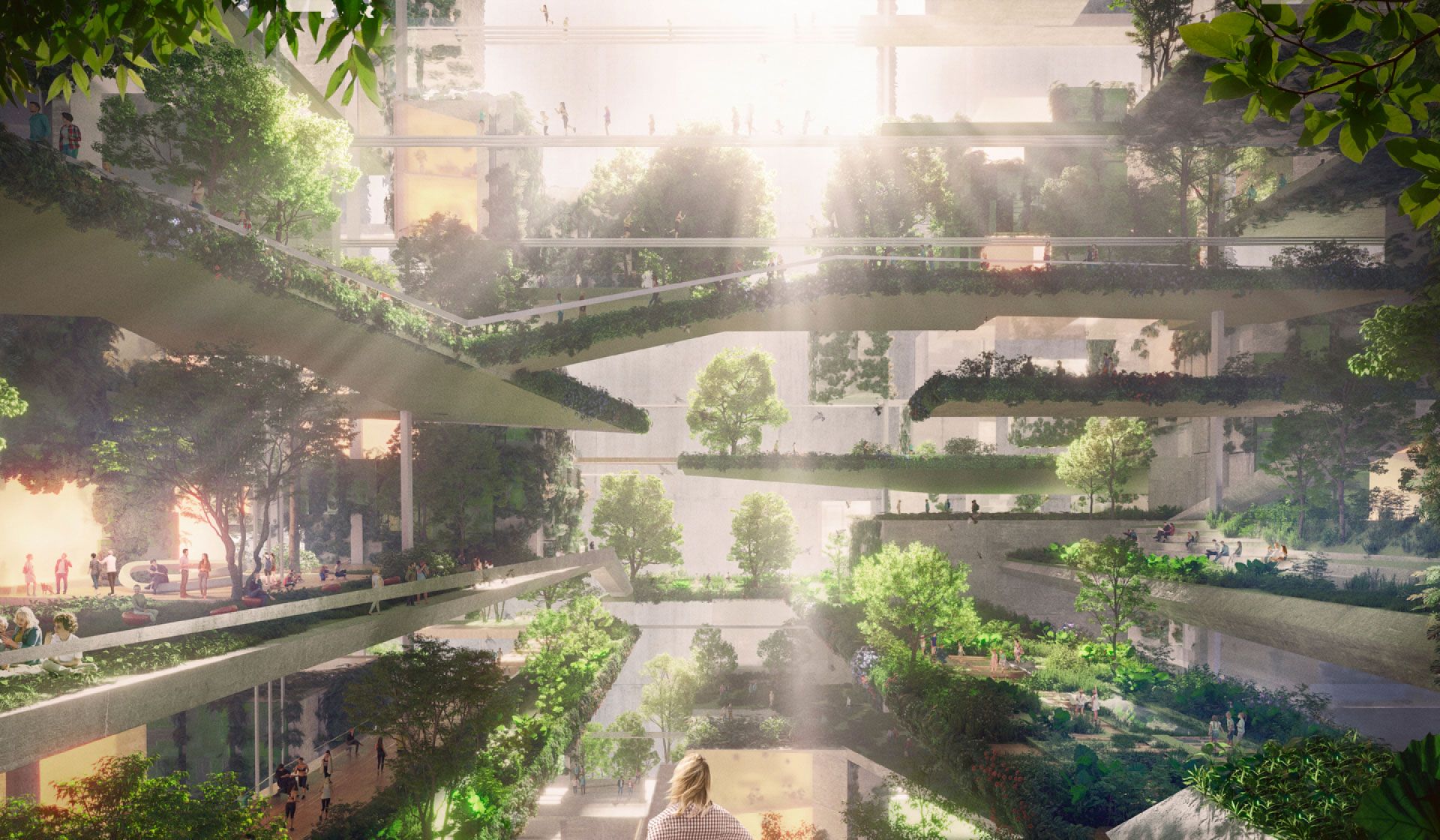 IDEAL CLIMATE ALL-YEAR-ROUND
REDUCED INFRASTRUCTURE FOOTPRINT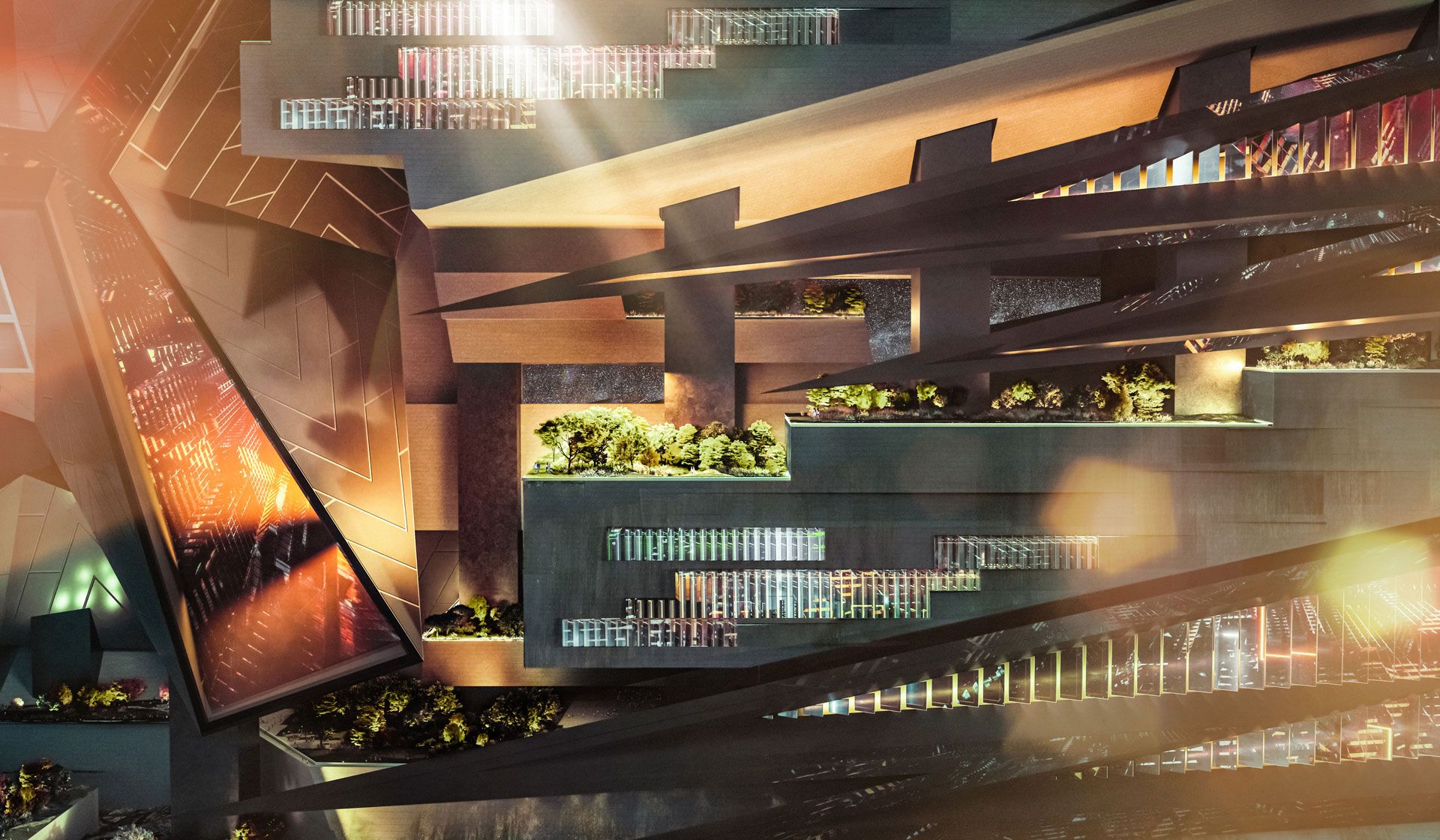 EVERYTHING YOU NEED WITHIN 5 MINUTES
ALTERNATIVE WAYS FOR HUMANITY TO LIVE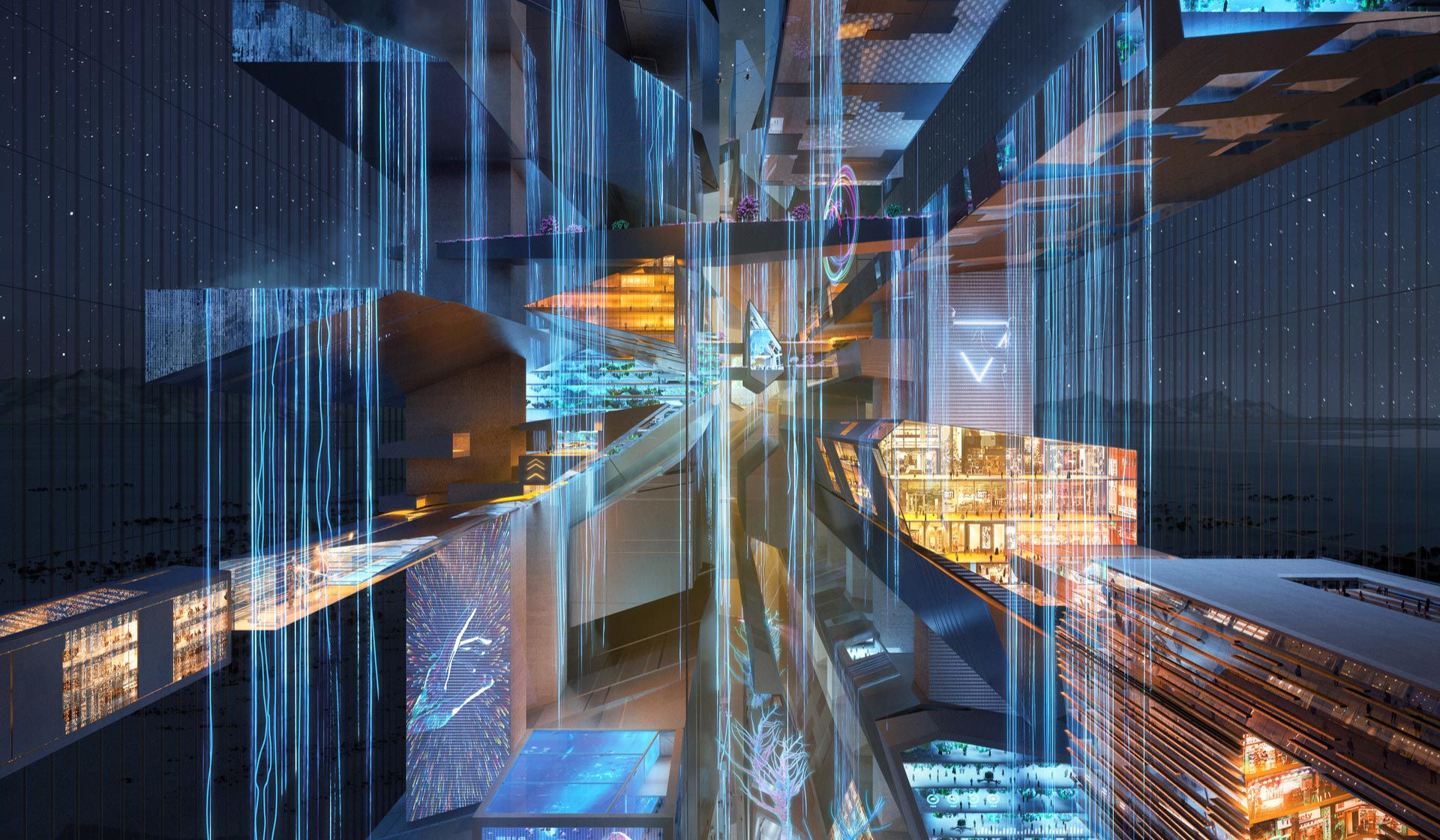 ADVANCED CONSTRUCTION & MANUFACTURING
UNMATCHED BUSINESS OPPORTUNITIES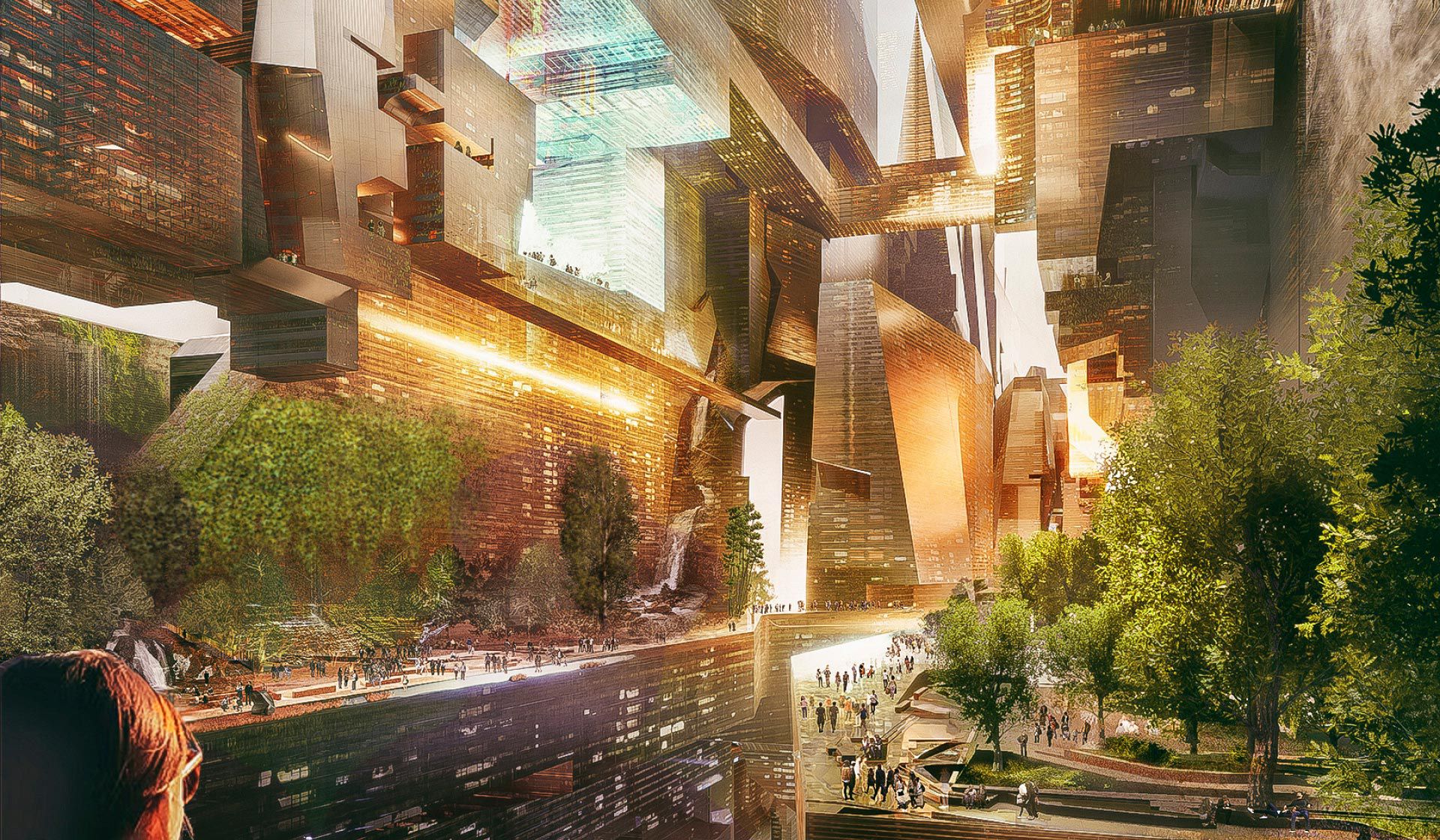 A 20-MINUTE JOURNEY END-TO-END
HIGH-SPEED LINEAR MOBILITY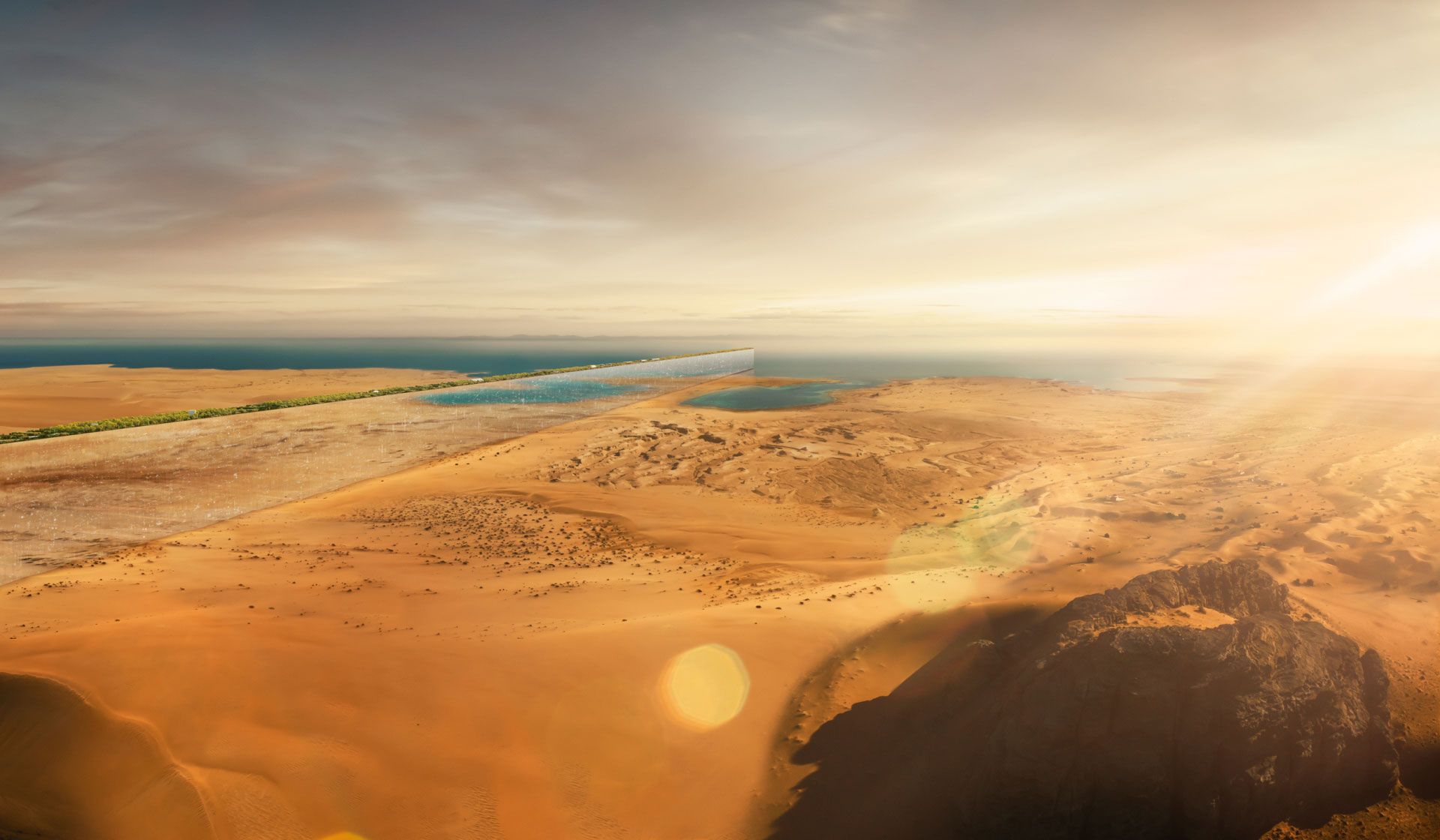 SOLUTIONS TO ENVIRONMENTAL CRISES
95% OF LAND & SEA PROTECTED FOR NATURE
Bringing value to the world through

Work-life balance

Bringing value to the world through

Legacy-free urbanism

Bringing value to the world through

Enhanced livability

Bringing value to the world through

Leisure and sports

Bringing value to the world through

Vertical living

Bringing value to the world through

Next-gen architecture

Bringing value to the world through

Walkable communities

Bringing value to the world through

Environmental solutions
How would Manhattan look with the vertical
urbanism being adopted for THE LINE?

How would Riyadh look with the vertical
urbanism being adopted for THE LINE?

How would Kensington look with the vertical
urbanism being adopted for THE LINE?

Our people
THE LINE's world-leading experts are creating a civilizational revolution, by redefining the concept of urban development and the city of the future.
Antoni Vives

Chief Urban Planning Officer

Working at the intersection of strategy, planning and design since 2018, Antoni Vives has led the urban planning of NEOM. Former Deputy Mayor of Barcelona, he is a published author and lecturer, and worked as a global consultant shaping the smart transformation of cities around the world.

Giles Pendleton

Executive Director

With a background in project development and management, Giles Pendleton has delivered first-class solutions driven by sustainability. Passionate about architecture, he drives NEOM's multidisciplinary development effort to ensure that THE LINE becomes a global best-practice example for cities.

Jonathan Oakes

Chief of Staff

Previously director of contracts and procurement for capital projects at Qatar Foundation Education City, Jonathan Oakes has experience in managing contracts within major projects. He manages corporate functions and operations on THE LINE – including risk, auditing, scheduling and reporting.

Gregory Kimpton

Development Director

Gregory Kimpton is a real-estate strategist and development specialist with a passion for innovation. Helping shape THE LINE's future objectives, he deeply considers cultural sensitivities, sustainability and progressive cognitive city development to ensure a successful city of the future.

Esam El-Makkawy

Regional Finance Director

With over 20 years of experience in capital markets and corporate finance, Esam El-Makkawy has worked on multi-billion dollar projects around the world. Now, he leads the strategic and investment team that oversees financial planning and operations, and investment analysis for THE LINE.

Steven Lewis

Commercial Director

Steven Lewis has 30 years of global infrastructure and building project experience across the United Kingdom, the Middle East and Asia. Previously the owner of a consultancy firm, he is a chartered surveyor – and now leads contracts and commercial management on THE LINE.

Ben Burgess

Development Director

With more than 25 years of experience, Ben Burgess has delivered a diverse range of real estate developments across Australia, the UAE and Saudi Arabia. His strategic oversight and deep understanding of the business, and political, culture will help produce world-class solutions for The LINE.

Raoule Barnard

Design Strategy & Program Director

Raoule Barnard has more than 20 years experience leading development opportunities and strategic partnerships, tracking emerging trends within commercial real estate and the construction industry. He leads the design and coordination strategy for The LINE.

Peter Anderson

Senior Development Executive

With more than 25 years of experience in real estate, Peter Anderson now leads THE LINE's development management team. He has global expertize from large complex projects for public and private clients. His career spans leadership roles across a variety of resort projects.
Stay informed about THE LINE