A new type of airline experience: The next generation of personalized travel is coming – at NEOM
The unique position of building an airline and airport from scratch provides the freedom to personalize the customer experience in a way not seen before in the aviation industry – writes the NEOM Airlines CEO
Applying for a visa. Traveling to the airport. Carrying your luggage. Checking in. Making sure you are collecting loyalty points. Going through passport control. Paying disproportionate fees, if you need to change your ticket. Trying to access the lounge. These are just some of the trials and tribulations of air travel. Unless you are in the 1% club able to fly in private jets, the commercial airlines customer experience leaves a lot to be desired.
Elevating traveler journeys
It doesn't have to be that way. Not if you are starting from scratch, learning the lessons of history and embracing advanced technology like biometrics and artificial intelligence. This legacy-free approach is how we are working at NEOM. We have no outdated infrastructure or business models to protect, meaning we can provide a personalized service.
Just imagine if your bags were collected from your home or office and delivered to the hotel or residence you were going to. Imagine if biometrics were advanced enough to recognize you via facial recognition as soon as you walked in a building, security clearing you for travel without the need for even going through a gate – let alone having to bother with a visa. And just imagine the time of your meeting changed by a few hours and you were able to change your flight to a later one, without hassle or cost. Better still, imagine you are collecting loyalty points at the airport – where the whole place is lounge-style service – as well as while flying and when using the facilities in your destination, because everything is owned by the same company.
This 'new future' is what we are building in the North West of Saudi Arabia. Ours certainly will not be a generic airline, we will be aiming to elevate every single touch point and your NEOM immersion will start before you even board the plane in London, New York, Paris and so on. The goal is to make the traveler journey as seamless as possible. Due to the fact we are building a new destination, new airports and a new airline all at the same time – there is a sense that we can achieve this to a level that just has not been seen before. It is truly exhilarating.
Small changes equal big impact
That said, it will be a two-step approach. The airline will be operational at the end of 2024 and will be focused on enabling travel for tourists, residents, and commercial partners to and from NEOM. In the first instance out of NEOM Bay Airport, which is already open with Saudia flights domestically as well as to London and Dubai, and then from the NEOM international airport later in the cycle. Organically, due to the strategic geographical location and the level of economic activity here, we expect that we will have a global aviation hub on our hands as time goes on – servicing the Middle East, Europe, America, Asia and so on.
Our resorts will be going live in early 2024, so we need to service that demand quickly, initially retrofitting existing aircraft with existing technology. But come 2026 onwards, there will be new innovative aircraft – whether it be electric, hydrogen-powered or supersonic – and next-generation interiors coming online from us. We are already in discussions with plane, interior and seat manufacturers.
Added to that, the ambition is that every flight that we operate will have some sustainable fuel onboard – originating from mixing facilities at NEOM. Sustainability will even stretch into the catering, with foods sourced locally from here and delivered via on-demand dining at a time when you actually feel like eating. We will look at every single component right down to the carpets and single-use plastics. Little things like this will accumulate and add up to more than the sum of their parts.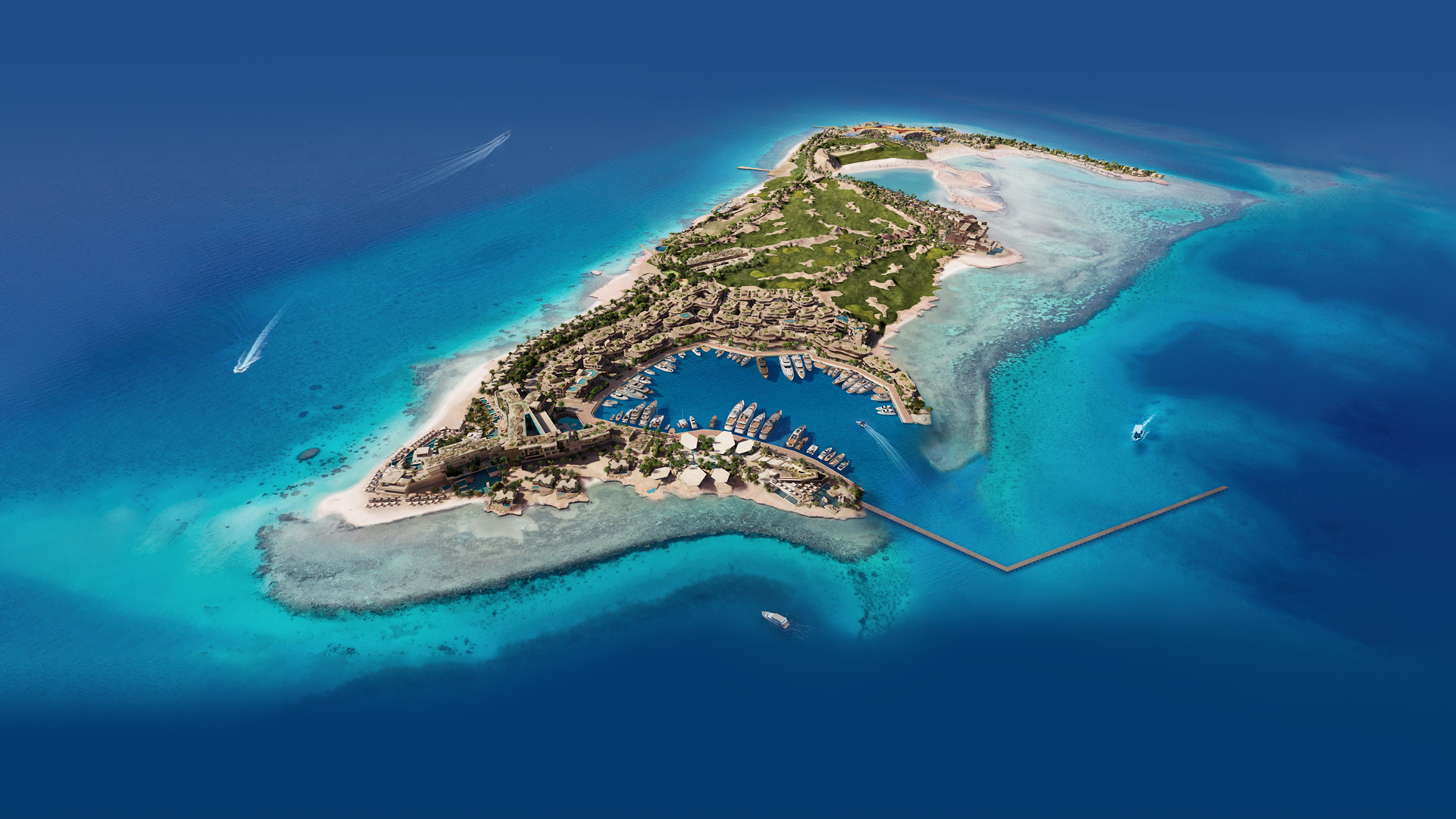 HRH Prince Mohammed bin Salman announces Sindalah, NEOM's first island development
His Royal Highness Mohammed bin Salman, Crown Prince, Prime Minister and Chairman of the NEOM Company Board of Directors, has announced the development of Sindalah, the first luxury island destination in NEOM and one of the most important projects supporting Saudi Arabia's national tourism strategy.
Going beyond the norms
The airline will be an extension of NEOM: the place, the company, the vision. We are there to enable the destination. Our goal is a holistic and interconnected approach, with NEOM Airlines enabling the gross domestic product of NEOM.
Other airlines are focused on the trip because they don't participate in the front end or the back end of the trip. For us, things will be different. The Gulf airlines have done this to a degree, but we will take it to a new level. Without Emirates, for example, there wouldn't be a Dubai right? Be ready for a completely different travel experience.
Another big point of difference for us will be the inflight entertainment systems. You will not have to watch a film you've seen before on a tiny screen and fold away the monitor before you get to your destination. There will be big screens with a large product offering on every seat, also compatible with your own device to give passengers that flexibility. You won't be limited to movies and shows either, we plan to offer 6G wifi and will accommodate gaming, and chat, too.
Reflecting NEOM's values
I've worked for some of the world's biggest airlines, including British Airways and Air Canada, but I can honestly say the opportunity here is way beyond anything else out there. There is a freedom in starting from zero and being well funded enough to explore the ideas that challenge the accepted norms. We can be futuristic and efficient, we don't have to modify or retrofit.
The airline will be an ambassador, a showcase for NEOM. Therefore, it has to be a very good product and it has to reflect the values of the overall project. It's not just an airline, it's a brand extension and a linear part of the travel experience because you remember the way you got there as well as the place itself. Our ultimate ambition is that you will not think about being on a plane or in an airport, you will simply enjoy the experience. Wouldn't that be something?
Klaus Goersch is NEOM Airlines Chief Executive Officer and a former chief operating officer of British Airways and Air Canada